News and Events
News and events for the East Texas 100 Club and find out how you can show your support for those who serve our local communities. ​
First responders risk life and limb to keep our communities safe, and sometimes these men and women make the ultimate sacrifice.
When a first responder is killed or seriously injured in the line of duty, whether they are a police officer, firefighter or EMS, their families must face not only a tragedy but also the expenses and challenges that come with it.
The East Texas 100 Club, a nonprofit, supports the families and children of first responders killed or injured in the line of duty. The local chapter is modeled on the original 100 Club, founded in Houston in 1953 to support the families of police officers killed in the course of their duties.
The East Texas chapter was founded in 2017 by Wayne Isbell, Chief of Mount Pleasant Police Department, and members of the East Texas Police Chiefs Association, including KPD Chief Todd Hunter and Gregg County Sheriff Maxey Cerliano.
"At the beginning, as we were just getting it off of the ground, it was just for law enforcement," Hunter said. "We began to move the program forward. What we wanted to do all the time was move it forward for all first responders, to include EMS and fire. We have since paid out benevolence funds to an EMS worker and a firefighter and several police officers."
The 100 Club took action right away after the recent death of Smith County Sheriff's Deputy Lorenzo Bustos.
Bustos, 29, was killed in the early morning of Friday, July 29 after Smith County Sheriff Larry Smith said he was hit by an intoxicated driver while making a traffic stop on State Highway 155. Another deputy was injured in the crash. The driver has been arrested and will be charged with intoxication manslaughter.
Bustos is survived by a wife and children ages 4, 5 and 8, family and friends.
"As soon as we heard of (Bustos' death), the committee was contacted and immediately the check was cut in the amount of $10,000. That's our threshold," Hunter said.
He explained the funds are specifically intended to be used by family members for immediate needs and costs following tragedies like these. "We do know that the family could receive some state and federal benefits in time. But with bureaucracy, it often takes months for those things to come about. Meanwhile, there is a spouse there that has an immediate need. There may be someone they have to fly in, there may be a mortgage payment due or the car payment is due. They may need to buy clothes for the funeral. There are other expenses that she or he does not need to deal with at that time. This is an immediate check from citizens within the region that this public safety worker works in that is provided within 24 hours and they have some of those immediate needs taken care of," he said
The board of the East Texas 100 Club meets to discuss the use of benevolence funds in support of fallen first responders, such as in the 2019 death of Panola County Deputy, Dickerson, 28, who was shot and killed while conducting a traffic stop. With the death of Lorenzo Bustos, the ETX 100 Club has paid out $50,000 to 5 First Responders in East Texas.
Hunter said the board has plans for the organization to grow over time and provide resources to local first responders in the form of training and equipment.
"It was started as benevolence in Houston but, over time, they were able to begin to provide equipment and training. So, as the association grew, they were able to provide more to law enforcement. With us, right now, our funds are low and all we can do is just support our fallen. But in time, that has been something we would like to incorporate into the program, when the funds are available."
The East Texas 100 Club supports officers and their families in the following counties: Anderson, Camp, Cass, Cherokee, Delta, Franklin, Gregg, Harrison, Henderson, Hopkins, Marion, Morris, Panola, Rains, Red River, Rusk, Smith, Titus, Upshur and Wood.
To learn more about how you can help support the families of local first responders killed or injured in the line of duty, visit www.easttexas100club.org/give. Donations can be made at an annual subscription level or at a lifetime subscription level. Donation options for both individuals and corporations are available. Members receive a sticker to show their support, listing on the 100 Club website and special thanks for lifetime memberships.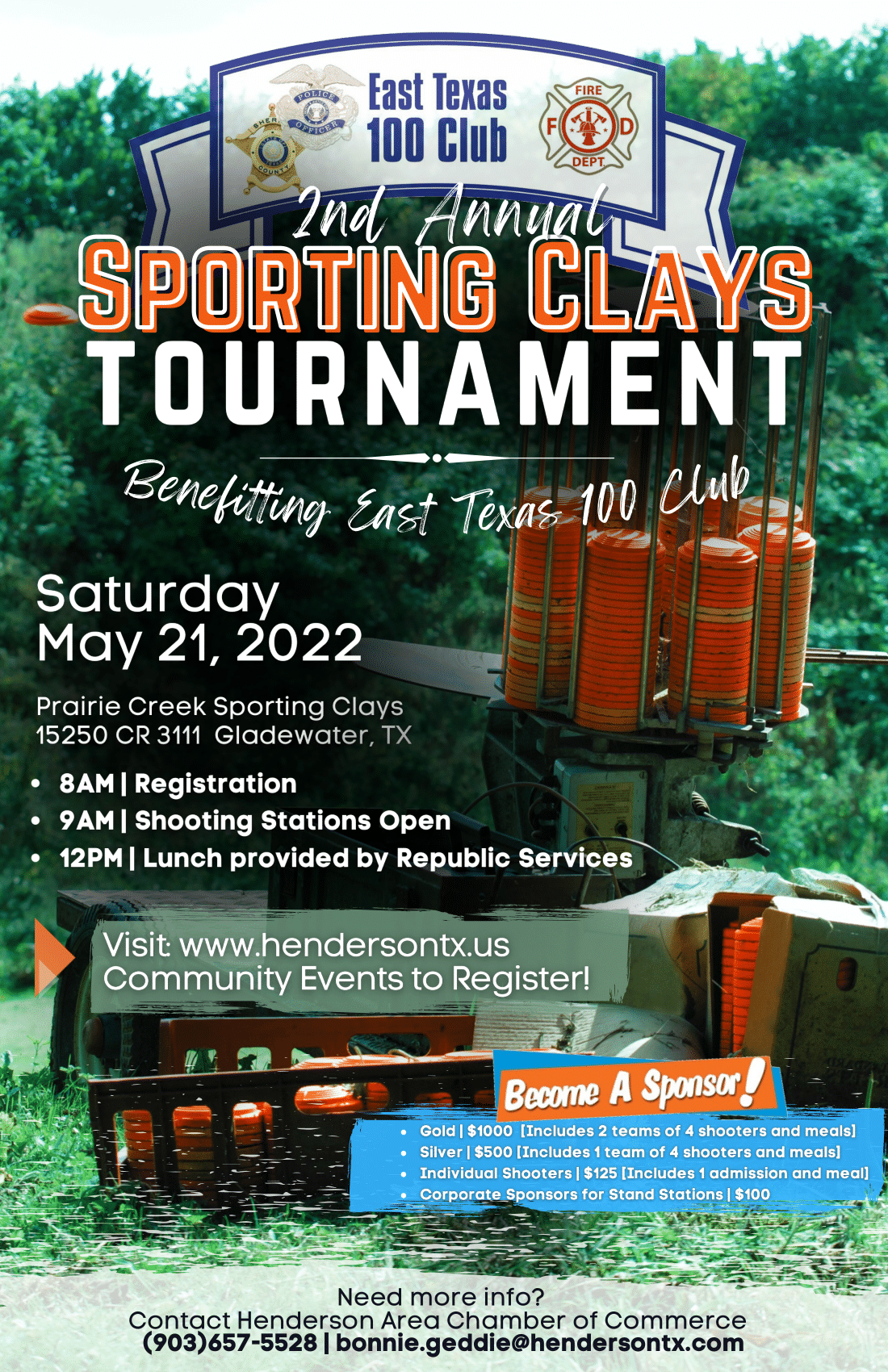 STAND SPONSORS

 
 
 Gabriel Jordan Chevrolet/Caddillac
Cypress Bank
 Rader Funeral Home
Henderson Federal Savings Bank

Texas Bank



 MTC ETX Treatment Facility
Mr and Mrs David Bickel
Larry's Interiors
 Bar J Brahman's

 JB McCaleb and

Angel Hospice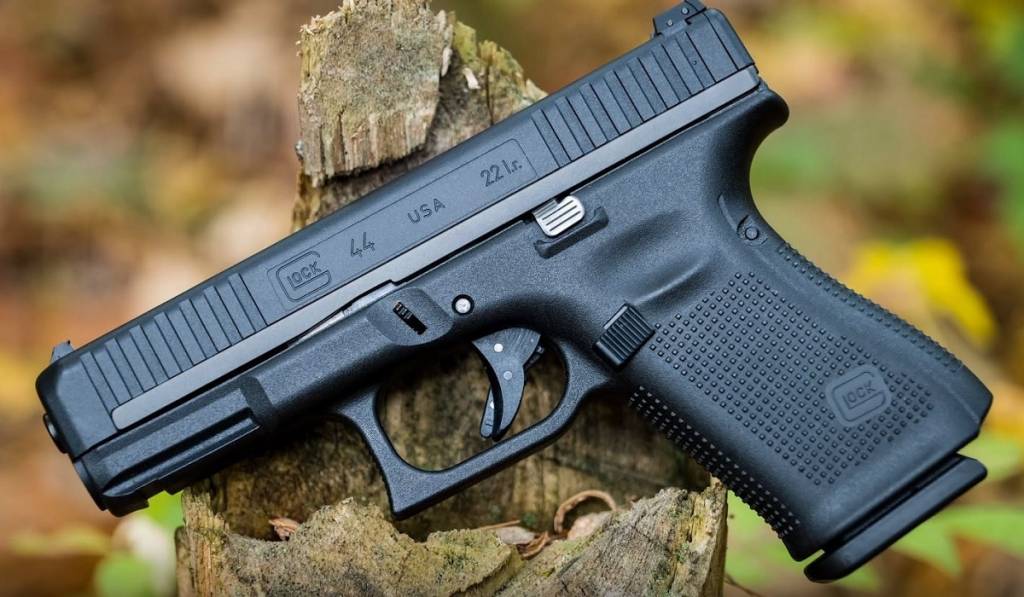 1ST PLACE WINNING TEAM-- GREGG COUNTY .
TEAM MEMBERS: Mike Johnson, Patty Harrison, William Sears, and Ronnie McKinney
Each team member received a Glock 44 Pistol.
Glock Pistols were donated by CORE CONSTRUCTION and JB McCALEB
2nd PLACE TEAM-- CITIZENS 1ST BANK
3RD PLACE TEAM--RUSK COUNTY DISTRICT ATTORNEY TEAM

CHANCE TO WIN A FRANCHI AFFINITY 20 GA SHOTGUN WAS WON BY STEVEN GREEN
DONATED BY THE JACK OF PAWNS IN LONGVIEW, TX
2022 TOP SHOOTER AWARD WAS WON BY MIKE JOHNSON


​

3" Cedar block of wood with 3 sides of text showing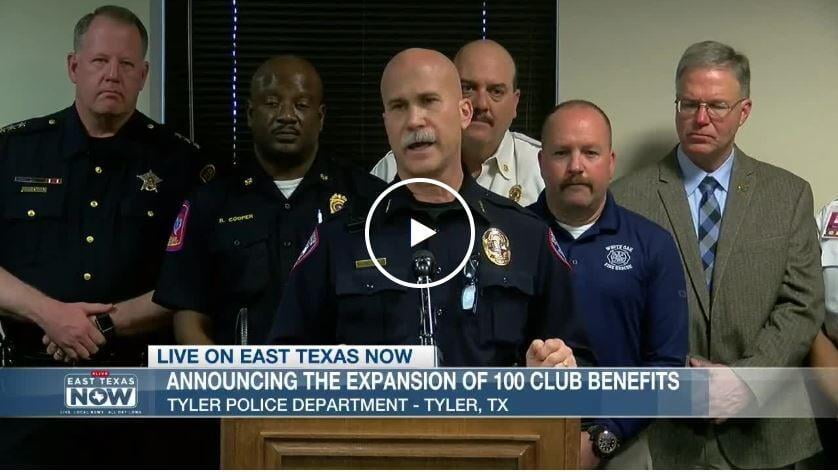 East Texas 100 Club Expands Benefits in 2020 to Public Safety
East Texas 100 Club past President Wayne Isbell provides details about the Foundation expanding benefits to include all law enforcement, fire, jailers, detention officers and prison guards for line of duty death benefits in the Club region.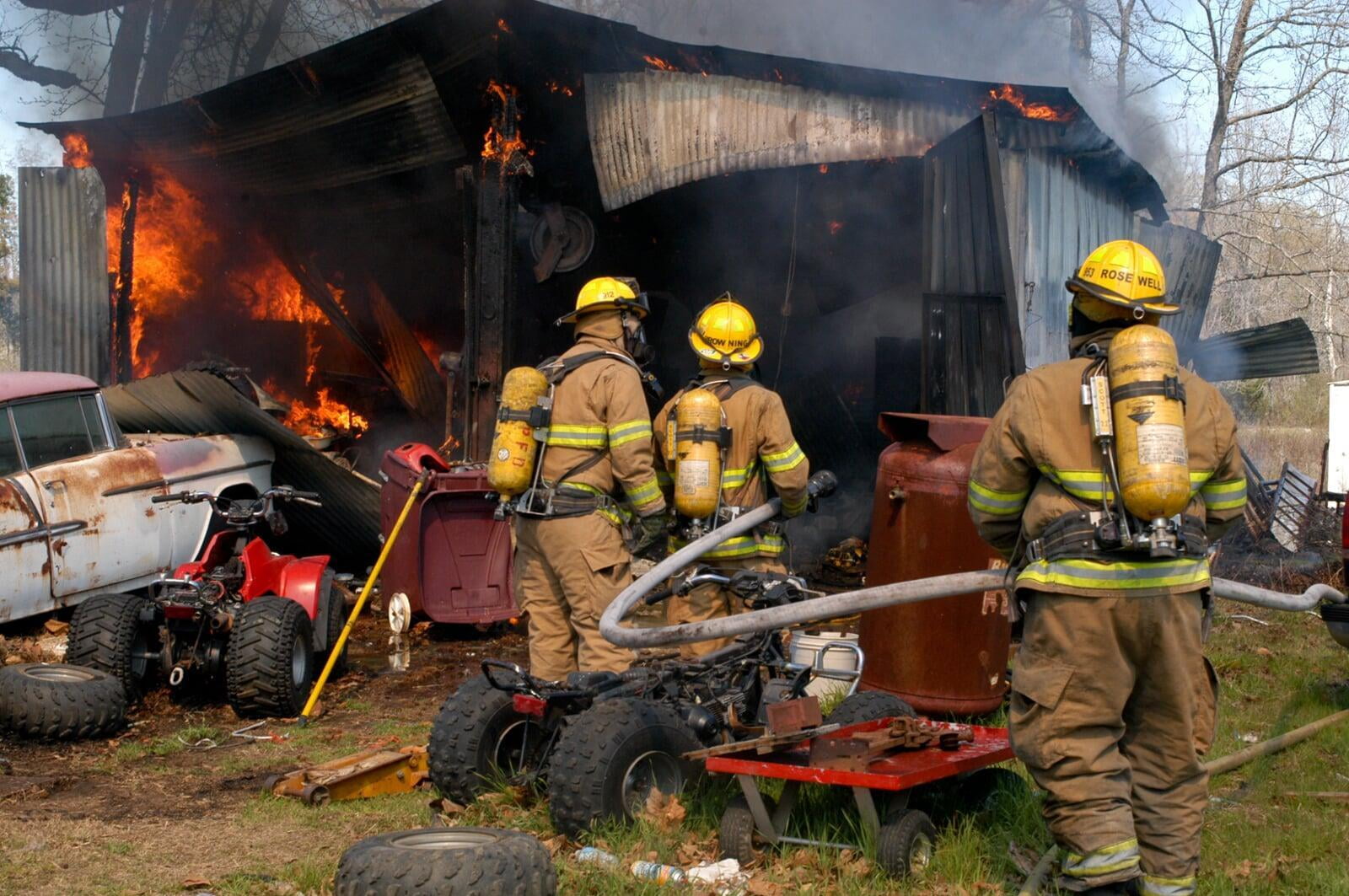 East Texas 100 Club brings on Firefighters and other Public Safety officials for benevolent benefits.
Effective January 1, 2020 the East Texas 100 Club covers law enforcement, firefighters, jailers, detention officers and guards in the East Texas 20-County region for line of duty deaths benevolent benefits.